Apply today and start saving 3¢ per gallon
Special rebate for one year or first 6,000 gallons, whichever is greater.*
WEX FlexCard at a glance
Automatic fuel expense tracking and reporting
No setup, annual or card fees
Pay in full each month or carry a balance — it's up to you
More security and control than credit cards or cash
U.S.-based customer service, ready to help 24/7
Better security and control for your business
Know who spends what, where and when
Driver PINs at the pump help curb misuse, and let you track spending by employee, location, time of day, and more.
Stop wasteful spending before it starts
Set the purchase limits that work best for your business — by amount, location, authorized times, even product type.
Prevent unauthorized purchases
We even help enforce your fueling policy, by detecting transactions outside your spending limits and stopping them at the pump.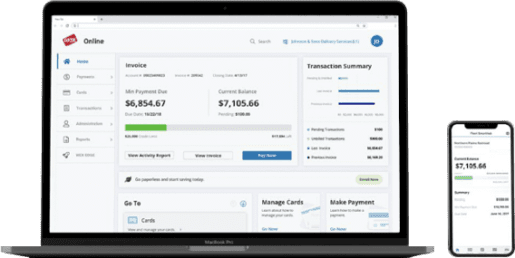 Simple online and mobile tools
Access your account anywhere
View card activity, access invoices, download reports and more.
Manage cards and employees
Instantly add, cancel or update card and driver info.
Use our mobile app
Make payments, check available credit, manage cards and more.
Automatic fuel accounting and reporting
Instant online accounting
Details like driver, location, fuel grade, and sales tax are captured for each transaction — so you don't have to chase down any more fuel receipts.
Track spending in easy reports
Get the most out of your fueling data and uncover new ways to save. Includes purchase activity reports, summary reports and tax exemption reports.
Start saving 3¢ per gallon and enjoy flexible fuel payments today.
Let's talk
If you're ready to apply or just gathering info, we're here to help.