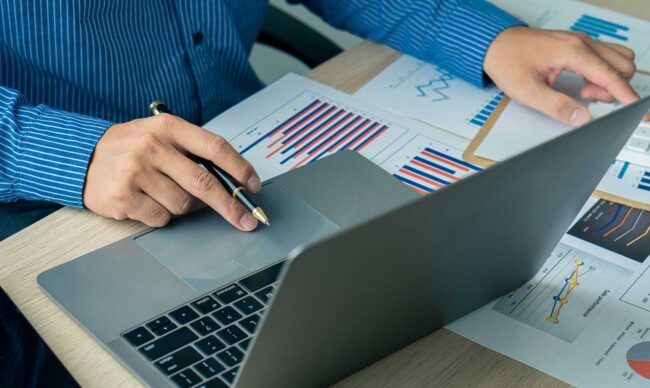 Fuel Cards Help Businesses Track and Manage Fuel Expenses More Effectively
Businesses that rely on vehicles often use fuel cards or fleet cards to fill their fleet's tanks. These business fuel cards are a convenient and secure way to pay for gas or diesel. Many fleet cards include discounts or rebates. Saving on each gallon seems like the no-brainer reason to use a fleet fuel card.
One of the most impactful benefits of using fuel cards lies in their data-tracking capabilities. Fleet cards track information in real-time, automate expense reporting, offer robust standard reports and offer the ability to create customized reports.
When fleet managers or business owners put the features of fleet fuel cards to work, they simplify fuel expense tracking and can easily manage those expenses with powerful data analytics.
The dos and don'ts of fuel expense management
From small enterprises to large companies, most business decisions are made when based on valuable information. Those decisions are only as good as the data that guides them. For a long time, spreadsheets were the data-tracking tool of choice. However, technology has advanced, and a host of data points can now be tracked automatically.
Fuel card technology has changed the way many businesses track their fuel expenses.
The benefits of automated fuel expense tracking far outweigh the benefits of spreadsheets. When you put them side-by-side, it's a wonder fleet card users are using spreadsheets at all.
The ease of automated expenses with a fuel card
Businesses that use vehicles tend to spend a lot on fuel. For some, fuel is the largest line item in their budget. Accurate fuel expense reporting is a must to maximize business efficiency.
When drivers use a fleet card to buy fuel or pay for vehicle maintenance, the transaction details are recorded and available as the purchase happens.
This data gives you a complete picture of your fuel spend. The automation of gathering expense information means you can make business decisions quickly. The data also offers the knowledge fleet managers need to take better care of fleet vehicles. With insights into fuel economy changes, you can better handle maintenance needs resulting in better-performing company vehicles.
Fuel cards solve the challenge of spreadsheets
Spreadsheet-based fuel expense management is a reality for many small businesses. Even some mid- to large-sized companies still rely on spreadsheets to track vital operational expenses like fuel spending.
Tracking fuel expenditures with spreadsheets looks something like this:
Employee pays for fuel with cash or a traditional credit card.
Employee collects receipts and records mileage.
Employee completes expense reports.
The accounting department manually enters data (fuel volume, cost, mileage, etc.).
There is a high chance of incomplete expense reporting or misinformation in these spreadsheet data-collection scenarios.
Data can't be interpreted until all information is entered, which means business insights are based on weeks- or months-old information. Using this approach allows for data to be recorded inaccurately — mileage recording, expense reporting and data entry.
Spreadsheets are inferior to automated expense reporting — especially when considering data in your fleet card dashboard is easily transferred to most accounting and bookkeeping software.
The benefits of fuel management with a fuel card
Many business owners and fleet managers have transitioned to automated fuel expense tracking. With the drawbacks of spreadsheets, it's understandable. A fleet fuel card can help you track and manage your fuel spending.
The fuel-tracking data you need, when you need it
All fuel-tracking transaction data is collected in real-time. Common data points include:
Driver
Vehicle
Odometer reading
Purchase amount
Fuel type
Fuel station locations
Date and time
Items purchased
This detailed information is housed in a fleet dashboard which you can access from anywhere via your phone or laptop, as long as there is internet service. With automated data collection, your drivers don't need to keep track of paper or digital receipts. You have everything you would normally get from expense reports.
At any given time, you can see what your company is spending on fuel and monitor spending trends by driver, vehicle, date range, fuel station and more.
A fuel card helps control spending on site, as it happens
Fuel cards offer more than automated expense tracking. With purchase controls, you can set a wide range of parameters. These controls help manage spending at the pump.
Rein in spending by setting limits like:
Purchase amount
Fuel grade (unleaded vs. premium)
Fuel type (gas vs. diesel)
Time of day/day of week
Fuel brand stations
Fuel only or allow related expenses
Number of transactions in a day, week or month
Set limits by driver or by vehicle
Purchase controls are a simple way to save money and manage fuel purchases at gas stations.
Fleet cards offer enhanced security
Another benefit of using a fuel card is enhanced security. Fleet cards provide the protection cash and most credit cards cannot. Each purchase requires a driver to enter their Personal Identification Number (PIN). Should a card be lost or stolen, no one can complete a purchase without the card user's PIN.
When you consider transaction data is automatically tracked and reported to a dashboard, it allows you to manage spending at the point of sale. This real-time tracking from fleet cards is more secure and therefore a better business solution for your company than cash or credit cards.
Even with all these benefits, there is more a business fuel card can offer.
Powerful expense reporting with a fleet card
Most fleet card dashboards are thoughtfully-built with expense reporting in mind. These dashboards also allow for report customization so fleet managers can meet specific business needs.
Standard reports with fleet card dashboards
With complete, accurate and detailed data tracked and housed in one location, you can use your fleet card dashboard to run reports like:
Purchase history: details of every transaction
Monthly vehicle use: odometer tracking, days/hour on the road
Fueling reports: volume, expenses, fueling location and more
Exception reports: flags questionable purchases
These are just a handful of standard reports that can help keep a pulse on your business. Since this information is tracked in real-time, you can respond to concerns quickly.
Report customization with a fleet card
Sometimes you want to look at a specific vehicle or maybe a driver. With report customization, fleet managers or company owners have options in how they view their data. They can drill down into specific metrics based on business needs — no questions go unanswered.
There are a variety of ways to pull data: run purchase alert reports based on your parameters, get transaction details for a specific vehicle or driver, or pick the metric of your choice to see trends over time.
Fleet fuel cards and optimized fleet management
You can make fleet management much easier using the detailed information you track with a fleet card. Use odometer reports or days-of-use to track the need for scheduled maintenance.
When you see a vehicle's fuel economy trending down, it may be time to get the car or truck into the shop for preventative maintenance.
Streamlined accounting with a fleet card
Up your accounting game with a fleet card. With data automatically tracked and sent to your dashboard, financial decisions are easier to make. This information can be seamlessly incorporated into most bookkeeping and accounting software.
Fleet fuel cards and the power to make strategic business decisions
Regardless of fuel prices, fleet cards help realize fuel savings and decrease the cost of running fleets. Whether you own a small business or run a large company, you can turn fuel tracking and management into strategic tools with a fleet card. Business owners and fleet managers have the necessary knowledge to make critical business decisions.
With a complete picture of one of your biggest expenditures, you can reduce unnecessary spending, budget more effectively and confidently plan for business growth.
Put your fuel data to work with a fleet card from wexcard.com.